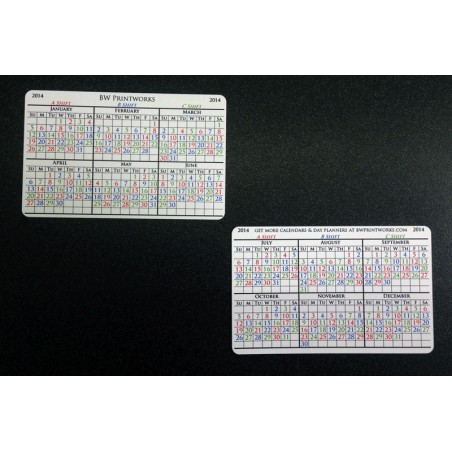  
*** Unavailable *** 12 Month Synthetic Wallet Calendar
We sincerely apologize for the inconvenience. This product is currently unavailable due to paper manufacturing issues. Please check out our other Wallet products: Trifold Wallet, Laminated Wallet
Size: Credit Card (2 1/8 x 3 3/8)
Fits in your wallet!

We've improved our wallets! They are now printed on a synthetic paper that is tear proof, water proof, and grease resistant. (They are as close to Fireman Proof as you can get!) In addition, the new wallets are now slimmer and have a slightly bigger font.

Our other wallet products: Trifold Wallet, Laminated Wallet

12 Month Synthetic Wallet Calendar -
Size: Credit Card (2 1/8 x 3 3/8)
Fits in your wallet!

We've improved our wallets! They are now printed on a synthetic paper that is tear proof, water proof, and grease resistant. (They are as close to Fireman Proof as you can get!) In addition, the new wallets are now slimmer and have a slightly bigger font.
If you asked anybody on a shift schedule a question about their work days, they will open their wallet and pull out their Wallet Calendar. This calendar is the most used shift calendar we produce. It's perfect for slipping into a credit card slot in your wallet or for throwing in the glove compartment of your car. Its durability and water resistance make it perfect for Firefighters or EMS personnel.

Our other wallet products: Trifold Wallet, Laminated Wallet

No customer reviews for the moment.
Customers who bought this product also bought:
2 other products in the same category: